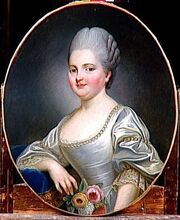 Marie Adélaïde Clotilde Xavière;
Petite-Fille de France
23 September 1759 – 7 March 1802
age 14 in the Versailles SL RP

Member of the Versailles Council of Representatives
Happy to help and answer any questions!

Known as Madame Clotilde, I am daughter of Dauphin Louis-Ferdinand de France and Marie-Josèphe de Saxe, and granddaughter of Louis XV, sister of kings of France Louis XVI, Louis XVIII and Charles X. I was born in Versailles in 1759. I was raised by Madame de Marsan with my young sister, Madame Elisabeth (born in 1764). In 1775, I become the wife of Charles-Emmanuel IV de Savoie. I am queen of Maison de Savoie
* 23 September 1759 – 27 August 1775 Her Royal Highness Marie Clotilde de France, Grand daughter of France
* 27 August 1775 – 16 October 1796 Her Royal Highness The Princess of Piedmont
* 16 October 1796 – 7 March 1802 Her Majesty The Queen of Sardinia
*in 1808 was declared a Venerable of the Church by Pope Pius VII

Community content is available under
CC-BY-SA
unless otherwise noted.